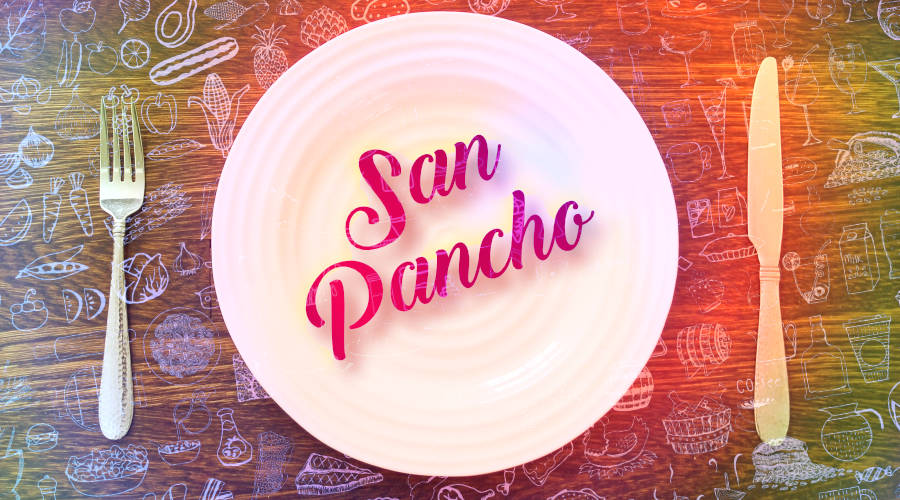 Where to Eat in San Pancho
For such a small town, San Pancho is quite diverse, culinarily speaking. No matter what you're in the mood for, you'll find something to satisfy your taste buds.
Seafood
La Perla
Price: $$ - $$$ In front of the beach (
view location
) Seafood - Snacks - Bar La Perla is a traditional Mexican beach restaurant. Here, you can eat fresh seafood, enchiladas, hamburgers, and Mexican snacks, like guacamole. They also offer full bar service and have tables and umbrellas right in the sand, so you don't have to stray too far from the beach to grab a bite to eat.
Las Palmas
Price: $$ - $$$ Frente a la playa (
view location
) Seafood - Snacks - Bar Located right in front of the beach Las Palmas offers a similar menu to its neighbor, La Perla: fish prepared either fried or grilled, seafood, guacamole and other Mexican snacks. Las Palmas also has tables and umbrellas in the sand. Together with La perla, this is the ideal place to spend a day on the beach.
Barracuda
Price: $$ - $$$ Av. Tercer Mundo right before the corner of Calle México (
view location
) Seafood - Ceviche - Tostadas Barracuda is one of the most popular places to eat in San pancho. Well known for their fish tacos, their lunch menu also offers light options such as ceviche, tostadas, and burritos, all with different types of seafood, like marlin, shrimp, and red snapper. At night, the dinner menu changes to more elaborate plates, such as tuna sashimi, alfredo pasta with shrimp, etc. The bar offers unique and classic cocktails, as well as a wide selection of mezcal.
Ikan Cocina Marina
Price: $$ - $$$ Calle America Latina at Calle Chile (
view location
) Seafood - Tacos - Gourmet Ikan was opened by a San Pancho native, internationally trained chef. He brings gourmet seafood to San Pancho at his corner location. Plates are served as a work of art, and are just as delicious as they are beautiful.
Pezetarian
Price: $$$ Av. Tercer Mundo #28 (
view location
) Seafood - Bar Located on the main avenue, Pezetarian offers a lunch and dinner menu with a main focus on seafood and mixology. The menu includes: seafood such as catch of the day, octopus, tuna and ceviche as well as options such as ramen and bowls.
Mexican
La Chalupa
Price: $ - $$ Calle México, roughly 20 meters (65 ft.) from Av. Tercer Mundo (
view location
) Mexican - Fish - Seafood La Chalupa is one of the most established restaurants in San Pancho. The menu is nothing but local fare. Plates for any time of day, breakfast, lunch, and dinner, are created based on fresh seafood, fish, and traditional Mexican recipes. They also have a 'menu of the day' that consists of an appetizer, entree, and a drink.
El Gallo
Price: $ - $$ Av. Tercer Mundo between Calle El Salvador and Calle Celian (
view location
) Traditional Mexican - Bar El Gallo brings something unique to San Pancho: dishes prepared in a traditional manner, like tortillas made from blue corn that has been prepared using a process called "nixtamal." El Gallo serves a range of fare from quesadillas, gorditas, tlacoyos, chilaquiles, to many other traditional recipes. The space is located in a beautiful outdoor garden protected by the shade of a parota tree. At night, you can return to enjoy live music and a full bar.
Maria's
Price: $$ - $$$ Av. Tercer Mundo between Calle Asia and Calle América Latina (
view location
) Mexican - International María's is a San Pancho classic. The menu is quite diverse, offering traditional Mexican plates and some American favorites. At María's, you can start the day with chilaquiles (a traditional Mexican breakfast), pancakes, or waffles. For lunch, they have sandwiches, burgers, and salads. At night, they offer more sophisticated plates of seafood, beef, and chicken.
Tacos
Los Arbolitos
Price: $ Calle América Latina at Calle Chile (
view location
) Tacos - Quesadillas Los Arbolitos is a favorite among both locals and tourists. Their appeal is a reasonably priced menu that includes quesadillas, tacos, tostadas (volcanes), and an open taco (pellizcada), all prepared with handmade tortillas. What sets Los Arbolitos apart is the table of toppings that are up for grabs with salsas, veggies, and beans for you to "make your own" taco.
Loncheria Uno Más
Price: $ The corner of Calle África and Calle Egipto (
view location
) Tacos - Tortas - Tostadas Loncheria Uno Más is a local favorite for breakfast and lunch. San Pancho locals stop by daily for tacos, tortas, and tostadas. Tourists who choose to try something off the beaten path appreciate Loncheria Uno Más for it's authentic flavor and attention.
Tacos El Pocas
Price: $ Av. Tercer Mundo #38 (
view location
) Tacos Taqueria El Pocas specializes in the world-renowned "al pastor" tacos. It also has a variety of meat tacos and some veggie options.
Italian
Dolce Jardín
Price: $$ - $$$ América Latina #24 (
view location
) Pasta - Pizza - Salads Dolce Jardín is an Italian restaurant that specializes in pizza, pastas, lasagna, and salads. The plates are served with big helpings, so you may want to share! The space is very pleasant since, as its name indicates, the restaurant is located outdoors in a garden.
La Toscana
Price: $$ - $$$ Av. Tercer Mundo between Calle Asia and Calle América Latina (
view location
) Italian - Pizza - Pasta La Toscana offers lunch and dinner. Their menu primarily consists of bruschetta, ravioli, and pizza.
El Punto Pizzería
Price: $$ Av. Tercer Mundo #29 (
view location
) Pizza - Sandwiches - Calzone If what you are looking for is to eat a real Italian pizza El Punto Pizza is the place. Its owners, an Italian couple, bring the pizza tradition to San Pancho with authentic taste and joy. Here you can enjoy whole pizzas or by slice, with a wide variety of toppings. They also have calzone and meat and vegetarian sandwiches.
Fusion
Bistró Orgánico
Price: $$$ - $$$$ Calle Asia #6, between Av. Tercer Mundo and Calle Chile (
view location
) American - International - Organic Bistro Orgánico, the restaurant within Hotel Cielo Rojo, offers breakfast, lunch, and dinner prepared from organically sourced products from the region. Their ambition is to provide healthy plates prepared in a gourmet fashion. They also have artisanal tequilas, national wines, and tasting menus.
Yasmina's
Price: $$ - $$$ Av. Tercer Mundo #28 (
view location
) Vegetarian - Vegan - Tacos - Plates Yasmina's offers thoughtful plates prepared with a Mexican/Asian fusion. The food is flavorful and thoughtfully prepared with quality ingredients. This is a great choice for vegetarians and vegans.
Café Floresta
Price: $$$ - $$$$ Pakistan #10 (
view location
) Fusion - Coffee In its pleasant dining room with a spectacular view, Café Floresta offers more than its name suggests. In addition to having a cafeteria and drinks, they serve breakfast and dinner (Friday and Saturday). Its breakfast menu is a mixture of Mexican cuisine and more international options such as chilaquiles, sandwiches, poached eggs, French bread, etc., all with a distinctive touch. For dinner, the dishes become more complex and gourmet, with options such as shrimp, birria and fish.
Limbo
Price: $$$ - $$$$ Av. Tercer Mundo #47, right before the malecon (
view location
) Seafood - Meat - Vegetarian Limbo cuenta con un menú sofisticado y una variedad de platos deliciosos y bebidas bien elaboradas. En el menú encontrarás panceta de cerdo crujiente, pato confitado, costillas, una variedad de opciones de ceviche y deliciosas opciones vegetarianas.
Yum Yum
Price: $$ Plaza del Sol (
view location
) Fusion - Vegan Yum Yum is a 100% vegan option for breakfast and lunch. Their menu is not extensive, but it makes up for it with fresh and flavorful dishes. For breakfast, it offers toasted bread, molletes, chilaquiles, pancakes, and omelets, and for lunch, bowls, salad, falafel, and burritos, among others, all homemade from scratch using local products.
International
San Pan
Price: $$ Av. Tercer Mundo #11 (
view location
) International - Coffee - Bar San Pan has something for everyone's taste and for every hour of the day as they offer breakfast, lunch and dinner. For breakfast you can find classics such as chilaquiles and eggs, as well as hotcakes and sandwiches, among others. For lunch the options range from individual pizzas, to bowls, fish milanese and salads. Dinner adds some special dishes to the lunch menu, such as seared tuna, catch of the day and an excellent variety of drinks. In addition to this, San Pan has a cafeteria service and smoothies.
La Ola Rica
Price: $$$ - $$$$ Av. Tercer Mundo at Calle México (
view location
) Grill - American - International La Ola Rica has been open and running in San Pancho for more than 21 years. It is well-known for the high-quality service and consistent experience. The menu is varied, much like that of an American grill. They offer plates of ribs, fish, shrimp, and even pizza.
Zenizas
Price: $$ - $$$ Av. Tercer Mundo at Calle México (
view location
) B.B.Q. The specialty at Zenizas is barbecue ribs. The menu primarily consists of barbecued fish and meat, but they also offer Mexican food as well.
La Patrona Beach Club
Precio: $$$$ Calle Las Palmas at Calle Amapas (
ver ubicación
) Seafood - Gourmet La Patrona Beach Club is a beachfront luxury palapa event space. The restaurant is open for both lunch and dinner and looks straight out to the ocean. If you go for lunch, you can also pay for a day pass to use the beachfront pool and facilities. The menu consists of carefully prepared traditional Mexican plates with a creative gourmet twist.
Food Trucks
Combi Food Station
Precio: $$ India & América Latina (
ver ubicación
) Hot dogs - Hamburguesas - Sopes The Combi Food Station is an outdoor space that houses two food trucks: Su Pancha Madre and Grilldogs. At Su Pancha Madre you'll find sopes (similar to an open taco) with a variety of toppings. At Grilldogs, you'll find German-style hot dogs and hamburgers, both of which can be subbed for a vegetarian option.
Cafes, Bakeries & More
Dough Joe
Price: $$$ Av. Tercer Mundo #22 (
view location
) Breakfast - Donuts - Coffee At Dough Joe their specialty is a wide variety of delicious donuts made fresh daily. They also offer diner-style breakfast with southern-style biscuits and hashbrowns. All menu items are made using natural, high-quality ingredients. Wash it all down with a delicious prepared coffee or home-made chai.
Café Paraíso
Price: $$ Av. Tercer Mundo and Calle América Latina (
view location
) Coffee - Baked goods Cafe and bakery Café Paraíso is a great place to sit down for an afternoon coffee, banana bread, brownie, and more.
Kokonati
Price: $-$$ Calle Cuba #60 (
view location
) Coffee - Baked goods Kokonati is an indoor/outdoor cafe with a variety of options for breakfast, lunch, and a midday snack. They offer a wide range of breakfast options, from pastries—like alfajores (a traditional Argentine cookie) to savory options like empanadas—, to quiche, and Mexican favorites like chilaquiles. To accompany your meal, you can order a prepared coffee, tea, or matcha.
Mexicolate
Price: $$ Av. Tercer Mundo close to Calle Ceilan (
view location
) Cacao - Drinks - Sweets Mexicolate is a novelty in San Pancho and in the surrounding area. This unique shop sells cacao products and delightful chocolate treats. They even make cosmetic products! Here, you can learn about how cacao is harvested and becomes the chocolate treats you love to indulge in. Note: Mexiocolate is dedicated to cacao — a medicinal and native plant to Mexico. Cacao is naturally bitter, and the chocolate you are most likely used to eating has added sugar and milk to take out the bitterness. Mexicolate focuses on enhancing the flavor of cacao, while keeping with its essence and medicinal properties.
Pal'Cora
Price: $$ Av. Tercer Mundo #31 (
view location
) Cacao - Drinks - Sweets Pal'Cora is a second proposal by the already renowned Mexicolate. Here you can find cocoa products, sweets, smoothies, and other delicacies.
Chichilí
Price: $$ Av. Tercer Mundo #28 (
view location
) Ice Cream - Desserts Chichilí is an ice cream shop that offers a vegan option to satisfy the craving for something sweet. Their ice creams and desserts use fruits, cocoa, and substitute cow's milk with nut and seed milks.
Chido Greens
Price: $$ Av. Tercer Mundo #36 (
view location
) Salads - Deli Chido Greens is a good option for those looking for a healthy and light breakfast or lunch. Their specialty is salads, smoothies and juices. You can also find sourdough bread avocado toast and sandwiches.