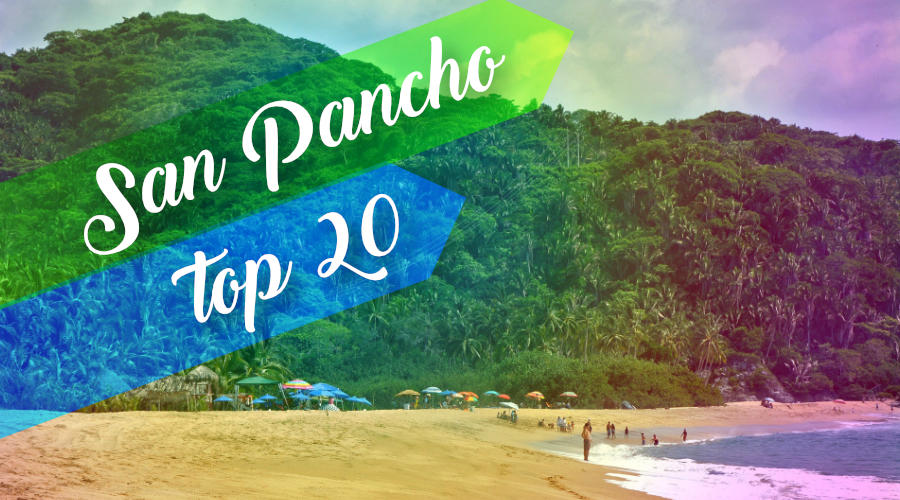 20 Things to Do in San Pancho, Nayarit, Mexico
San Pancho, Mexico is an eclectic beach town on the coast of the Riviera Nayarit. For its size, you would think that San Pancho would be a sleepy, coastal town with not much to do - but it's quite the contrary. Below, we'll share with you the top 20 (of many) things to do in San Pancho.
1. Head to the beach
The beach is the main attraction in San Pancho. During the day you can sit under an umbrella and order a cocktail or bring your own umbrella and have a picnic. If you're looking for a relaxing day, set up camp in the sand and watch the surfers, take a walk by the estuary, or keep an eye out for whales. During the months of December through March, Humpback whales make their way up the Pacific coast to give birth to their young. Many people spot the mother's with their young breaching the water and appearing to be having a good time. Si bien la mayoría de los pueblos a lo largo de la costa Mexicana son conocidos por dedicarse principalmente a la pesca, San Pancho también tiene una sólida historia de ganadería y producción de fruta. Al día de hoy, los vaqueros locales pasean al atardecer sobre sus caballos, y durante el Festival de San Pancho, compiten en el concurso de baile de caballos, una tradición del pueblo donde los jinetes lucen sus habilidades de coordinación con el caballo.
2. Surf
Mexico's Pacific coast is well-known for surfing. Compared to the Mexican Caribbean that is known for tranquil waters and pool-like conditions, the Pacific waters provide waves and recreation. The waves in San Pancho are mostly for surfers with experience, because they're faster and shorter than other nearby beaches in Nayarit. There are a few surf shops in town that rent boards and also provide surfing lessons at nearby beaches. If you're not ready to paddle out, you can watch surfers from the shore of the beach in San Pancho.
3. Attend a turtle release
San Pancho is home to the
Grupo Ecológico de la Costa Verde
, one of the largest turtle conservation projects in the Banderas Bay and the Riviera Nayarit. The turtle conservation organization in San Pancho dedicates itself year-round to increasing the sea turtle population that has been heavily devastated by oceanfront development and poachers. During high season, Grupo Ecológico de la Costa Verde hosts public release of the baby sea turtles, and it is a spectacle you don't want to miss.
4. Come for one of the many local events
San Pancho hosts numerous events and festivals. Many visitors actually plan their trip to San Pancho according to their favorite event. Some of the annual events held in San Pancho are the:
•
San Pancho Music Festival in February
•
Circo de los Niños fundraising event in March
•
San Pancho Days Saint Francis of Assisi in September
•
SinergiArte Festival in December
5. Go on a culinary tour
San Pancho has gained a notable culinary reputation for the quality and variety of food served. From fish tacos, to pasta, steak, and traditional Mexican food, there are numerous options to choose from. Simply put, the culinary diversity in San Pancho is unique. Not sure where to start? Check out our list of restaurants,
here
.
6. Listen to live music
During high season, you can find live music almost every night in San Pancho. Most restaurants have musicians playing out front and once a week, there is an open mic night at one of the local bars. In addition to the live music playing in the streets, every year in February, San Pancho hosts the
San Pancho Music Festival
— a three-day festival that brings musicians from all over the world as well as Mexico.
7. Take a hike
If you're interested in a little adventure, there are many things to see in the region, both close to San Pancho and within a few minutes driving. Some things you can see are petroglyphs, nearby beaches, waterfalls, and mountaintops with stunning views. If you're not familiar with the area, it's best to hire a guide to ensure you don't get lost and to ensure you don't damage any flora or the natural environment trying to find the right path.
8. Browse the San Pancho Market
San Pancho hosts its town market every Tuesday starting in November. The market is full of yummy things to eat, beautiful hand crafts, and textiles. Each town in the region has a weekly market or "tianguis." Some markets are larger and have more venders. If you're interested in exploring markets in nearby towns and in the Riviera Nayarit, click
here
to learn more.
9. Get a massage in your hotel room
You're on vacation — treat yourself! If you're looking for a little extra relaxation and want to be completely pampered, have your hotel call a masseuse to come to you. There are a number of experienced and knowledgeable masseuses in San Pancho, and the majority are willing to come to your home or the hotel where you're staying. It is truly luxurious.
10. Watch the sunset
Watching the sunset is a ritual in San Pancho. Every day, locals and visitors spend their evenings at the beach, honoring the day and bidding farewell to the sun. San Pancho is unique in that every day the sun sets right over the ocean, so you can see every single moment of the sunset.
11. Stroll Avenue Tercer Mundo for the 'Art Walk'
Every Friday during high season, the San Pancho Art Walk opens up to the community and showcases the work of local artisans and artists. At 4:00 PM, the main street, Avenue Tercer Mundo, is lined with artists' booths, showcasing their craft, some of which include, jewelry, paintings, and ceramic work.
12. Play a round of golf
Las Huertas Golf Course is a 9-hole golf course in San Pancho that was once a flourishing fruit orchard. Although the grounds are now dedicated to golfing, visitors often report seeing iguanas and other wildlife while playing. There's also a cafe on-site where you can grab a coffee or lunch. Las Huertas Golf Course offers the option of playing 9 or 18 holes.
13. Shop for a keepsake that will remind you of San Pancho
San Pancho is home to numerous artists and artisans. You'll surely find something beautiful to take home with you to remind you of your time in San Pancho. Jewelry, clothes, crafts, you name it. At the main entrance to the beach, you'll find traditional huichol bracelets made from colorful beads and hand weaved baskets. If you're visiting during the months of November through April, stop by the San Pancho market to see the full selection of textiles and handmade products available.
14. Eat chocolate and learn about cacao
If you're a chocolate lover, you need to visit
Mexicolate
. Mexicolate is a novelty in San Pancho and in the surrounding area. This unique shop sells cacao products and delightful chocolate treats. Cacao is a native plant to Mexico that is used in rituals and medicinally. The owners of Mexicolate are dedicated to enhancing the naturally bitter flavor of cacao, while keeping with its essence and medicinal properties — think dark chocolate. Here, you can learn about how cacao is harvested and becomes the chocolate treats you love to indulge in. You can enjoy a wide range of handmade cacao treats, including chocolates of assorted flavors, brownies, hot cacao, smoothies, or a "Love Shot" (similar to an espresso, but with no coffee), or pick up something to take home with you, like honey with cacao nibs or homemade peanut butter with cacao. They even make cosmetic products!
15. Visit and/or volunteer at Entreamigos Community Center
EntreAmigos
is San Pancho's beloved and active community center. The center provides activities and programs for children and families in the community. The activities and initiatives of Entreamigos focus on positive change within the community, sparked and nurtured by members of the community and volunteers from all over the world. The center also has a shop where they sell products produced by students and women in the community. Parts of the proceeds go towards providing college scholarships to program participants.
16. Find tranquility with yoga
If you're looking for a way to reconnect with your true self, El Estar Yoga and Healing Center offers yoga classes and treatments, including massages, facials, and acupuncture. They also offer workshops that include Tai Chi, Dance, and alternative therapies such as Family Constellations. Classes are held under a palapa and the space is tranquil and close to nature, exactly what you want when look for a restorative atmosphere.
17. Watch a soccer game
Soccer is a favorite past time in Mexico. Throughout the year, San Pancho hosts tournaments of youth soccer teams in the region, ranging from all ages. If you hear a commotion, it's most likely coming from the soccer field — head on over, watch a game or two, and support San Pancho's teams!
18. Take a pilates class
Just because you're on vacation doesn't mean you can't be active. Pilates San Pancho offers a variety of classes, including pilates reformer, yoga, mat pilates, and aerial yoga. If you're in town for a few weeks, you may be able to catch a surf bootcamp — a great way to focus on the muscles and movements used when surfing — to improve your skills!
19. Watch a polo match
La Patrona Polo Club is a beautiful polo and equestrian club in San Pancho. The grounds are surrounded by green jungle and mountain views. It is truly a spectacular place to be. Throughout the high season, La Patrona hosts polo matches coupled with brunch. Visitors can pay for a ticket to enjoy the day, eat, and watch a professional polo match.
20. Go bird watching
San Pancho is situated between the ocean and the Sierra Madre, Mexico's biggest mountain range, which hosts a great amount of wildlife and makes it an amazing place to go bird watching.
Birding San Pancho
has been working in San Pancho since 2011, and offers professional bird watching tours with a focus in conservation and education. If you enjoy hiking through nature and love watching birds and wildlife, this is for you!